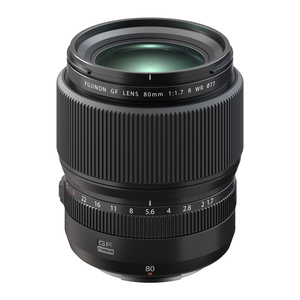 GF80mmF1.7 R WR Lens
$2,299.95
GFX SYSTEM
GF80mmF1.7 R WR Lens
SKU: 0-74101-20482-7
UPC: 600022103
GFX SYSTEM
GF80mmF1.7 R WR Lens
35mm Equivalent Focal Length: 63mm
Maximum Aperture: F1.7
12 elements in 9 groups with 1 aspherical and 2 super ED elements
Weight: 795g (1.75lb)
Filter Size: 77mm
Order now for estimated delivery by
FedEx Ground
Est. Arrival by:
FedEx 2-Day
Est. Arrival by:
Full shipping details are available during checkout.
Please Note: Please allow 2-4 business days for order processing and shipment. Shipment times are calculated from the date of shipment.
Want to get it sooner? Look for it at one of our Authorized Dealers
---
Overview

With its super-wide aperture of F1.7, GF80mmF1.7 R WR heralds a new era in large format digital image-making. Until now, it has not been possible to use autofocus, at such a wide aperture, on a medium or large format digital mirrorless system. This not only creates huge opportunities for wedding and portrait photographers on location, it opens new possibilities for image-makers of other genres as well. Spectacular edge-to-edge sharpness even at its widest aperture, combined with stunning bokeh, deliver images of outstanding quality. And with a portable, weather-resistant body, GF80mmF1.7 R WR lets you finally stop dreaming about the images that you could be making and start thinking about the images you will be making.
---
Highlights

Start creating freely with the elegance and style of large format digital and the worlds fastest ever lens with autofocus (AF) for a medium or large format mirrorless digital camera system. GF80mmF1.7 R WR will help you create razor-sharp images in stunning high-resolution and give you absolute confidence that it will produce incredible results every time, even when the depth of field is shallow and the light levels are low.
GF80mmF1.7s incredibly wide aperture works together with the GFX imaging sensor, which is almost twice as large as that of full frame cameras, to provide an unparalleled level of image quality for anyone passionate about making portraits. The beautifully smooth bokeh produced by this combination creates astounding separation between a subject and its background that results in truly mesmerizing and unforgettable images.
Seamlessly step from the studio to an offsite location and be assured that GF80mmF1.7s compact design will be up to the task. At just 3.9 inches (99.2mm) long and weighing approximately 1.75lb (795g) this lens will be sure to accompany you on plenty of excursions. Whether its documenting fast-paced weddings or demanding days on location, enjoy the image quality of large format digital with the freedom of mirrorless like neverbefore.
Designed to realize the full resolution of GFX imaging sensors, GF80mmF1.7 consistently delivers wide-open, edge-to-edge sharpness where you want it, while nine rounded diaphragm blades ensure irresistible bokeh where you dont. Comprised of 12 elements in nine groups, including one aspherical and two ED elements to ensure each pixel is perfectly resolved, GF80mmF1.7 R WR upholds Fujinons reputation for creating precise and outstanding optics with incredible image quality.
Such a lightweight, compact, and portable design means youre going to want to take GF80mmF1.7 R WR everywhere. Thats why it has been designed to withstand the toughest conditions. Its durable and rugged construction benefits from internal seals which provide dust- and weather-resistance that can operate in temperatures as low as 14F (-10C). Add a fluorine coating to the front lens element, which is water-, dust-, and dirt-repellent, and you have a professional optic that is ready to frame perfection, wherever you find it.
---
Specs

Lens Configuration

12 elements in 9 groups
(includes 1 aspherical and 2 superED elements)

---

Focal Length

80mm

---

35mm Equivalent Focal Length

63mm

---

Angle of View

37.7

---

Maximum Aperture

F1.7

---

Minimum Aperture

F22

---

Number of Aperture Blades

9 (rounded diaphragm opening)

---

Aperture Step Size

1/3EV (23 steps)

---

Minimum Focusing Distance (cm)

70

---

Minimum Focusing Distance (in)

27.56

---

Maximum Magnification

0.15x

---

Lens Diameter (mm)

94.7

---

Lens Length (mm)

99.2

---

Lens Length (in)

3.91

---

Lens Weight (g)

795

---

Lens Weight (lb)

1.75

---

Filter Size

77mm

---

Approximate External Lens Dimensions

94.7mm99.2mm

---
---
What's Included

FLCP-77 Lens cap
RLCP-002 Rear lens cap
Lens hood
Lens pouch
---
Shipping

During checkout, you will be able to select a preferred shipping option. An estimated delivery time for your order will be based upon your shipping selection, the delivery address, and our warehouse location. Shipment tracking is available after a purchase by referring to your order confirmation or by navigating to the My Orders & Returns section of your registered account on this website. Orders will usually ship within 2 business days of an order confirmation. Fujifilm will not be held responsible for any delays related to the processing, fulfillment, and shipment of any order that are placed on this website.
---
Cancellations & Returns

Orders can only be cancelled within 24 hours of the original confirmation.

Note that you have thirty (30) days from the date of your original purchase to return a purchased product. All sales are final after 30 days. If more than 30 days has passed since your purchase, Fujfilm will be unable to process your return, or otherwise offer you a refund or product exchange for any reason (subject to the applicable limited product warranty).

PURCHASES OF REFURBISHED PRODUCTS, C-STOCK PRODUCTS, AND PRODUCTS PURCHASED AT A DISCOUNTED OR PROMOTIONAL PRICE CANNOT BE RETURNED AND ARE NOT SUBJECT TO RETURN AT ANY TIME, FOR ANY REASON, SUBJECT TO THE APPLICABLE LIMITED PRODUCT WARRANTY.
---