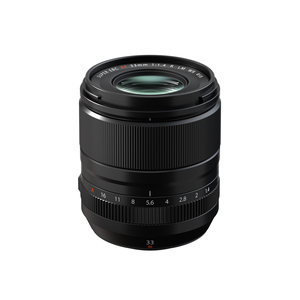 XF33mmF1.4 R LM WR
$799.95
X-Series
XF33mmF1.4 R LM WR
SKU: 0-74101-20491-9
UPC: 16719201
X-Series
XF33mmF1.4 R LM WR
35mm Equivalent Focal Length: 50mm
Maximum Aperture: F1.4
15 elements in 10 groups with 2 aspherical and 3 ED elements
Weight: 360g (0.8lb)
Filter Size: 58mm
---
Overview

XF33mmF1.4 R LM WR brings together decades of precision engineering, cutting edge technology, and carefully refined manufacturing processes to usher in a new era of optical brilliance and performance for FUJIFILM X Series cameras and lenses. Weighing just 360g (0.79lb) and measuring only 73.5mm (2.89in) in length, XF33mmF1.4 R LM WR blends advanced design with a history of optical excellence to give any image maker a perfect, all-around lens that combines incredible performance with lightning fast autofocus to draw the most out of any image, regardless of whether it is being made today, or far off into the future.
---
Highlights

Passionate image makers are constantly looking for ways to make the most of the best light and the perfect subject. With its unmatched optical quality and ability to resolve details up to 40 megapixels, XF33mmF1.4 R LM WR is poised to deliver vibrant, true-to-life colors, minimal optical aberrations, and outstanding detail in those rare moments where passion meets perfection.
XF33mmF1.4 R LM WR may be the first X Mount lens to have exactly the same equivalent field of view as a 50mm lens, but it certainly wont be the last one to perfectly blend optical engineering with cutting edge technology. Ready to document events and scenes as they unfold, XF33mmF1.4 R LM WR is equipped with a powerfully accurate linear motor to ensure that images are always in focus and creativity is never suppressed. Fast, near silent, and unerringly accurate, this lens effortlessly performs to keep any image maker in the moment, no matter how brief it is.
Minimal focus breathing, precise manual focus, and wonderfully blurred backgrounds make XF33mmF1.4 R LM WR a perfect choice for videographers who need wide apertures for low-light situations or to create separation between subject and background. Manual focusing is easily controlled, thanks to a mechanism that delivers near-perfect precision down to a minimum object distance of 30cm (11.81in).
Featuring 15 elements in 10 groups including two aspherical and three ED elements XF33mmF1.4 R LM WR is engineered to provide optimum quality and unparalleled color accuracy, with minimal coma and chromatic aberration. This ensures unmatched resolution and fresh, vibrant color.
Weighing just 360g (0.79lb) and measuring 73.5mm (2.89in) in length, XF33mmF1.4 R LM WR is easy to handle, simple to use, and beautifully balanced for any X Series camera. Its gorgeously constructed from its aperture and manual focusing rings to its all metal construction and is built to withstand dust, moisture, and temperatures as low as 14F (-10C) when used with a weather-resistant X Series camera, to keep creative doors open when nature tries to keep them closed.
---
Specs

Lens Configuration

15 elements in 10 groups with 2 aspherical and 3 ED elements

---

Focal Length

33mm

---

35mm Equivalent Focal Length

50mm

---

Angle of View

46.9

---

Maximum Aperture

F1.4

---

Minimum Aperture

F16

---

Number of Aperture Blades

9 (rounded diaphragm opening)

---

Aperture Step Size

13EV (22 steps)

---

Minimum Focusing Distance (cm)

30

---

Minimum Focusing Distance (in)

11.81

---

Maximum Magnification

0.15x

---

Lens Diameter (mm)

67

---

Lens Length (mm)

73.5

---

Lens Length (in)

2.9

---

Lens Weight (g)

360

---

Lens Weight (lb)

0.8

---

Filter Size

58mm

---

Lens Mount

FUJIFILM X mount

---

Approximate External Lens Dimensions

67mm x 73.5mm

---
---
What's Included

FLCP-67 Lens cap
RLCP-001 Rear lens cap
Lens hood
Wrapping cloth
---
Product Resources
---
Shipping

During checkout, you will be able to select a preferred shipping option. An estimated delivery time for your order will be based upon your shipping selection, the delivery address, and our warehouse location. Shipment tracking is available after a purchase by referring to your order confirmation or by navigating to the My Orders & Returns section of your registered account on this website. Orders will usually ship within 2 business days of an order confirmation. Fujifilm will not be held responsible for any delays related to the processing, fulfillment, and shipment of any order that are placed on this website.
---
Cancellations & Returns

Orders can only be cancelled within 24 hours of the original confirmation.

Note that you have thirty (30) days from the date of your original purchase to return a purchased product. All sales are final after 30 days. If more than 30 days has passed since your purchase, Fujfilm will be unable to process your return, or otherwise offer you a refund or product exchange for any reason (subject to the applicable limited product warranty).

PURCHASES OF REFURBISHED PRODUCTS, C-STOCK PRODUCTS, AND PRODUCTS PURCHASED AT A DISCOUNTED OR PROMOTIONAL PRICE CANNOT BE RETURNED AND ARE NOT SUBJECT TO RETURN AT ANY TIME, FOR ANY REASON, SUBJECT TO THE APPLICABLE LIMITED PRODUCT WARRANTY.
---