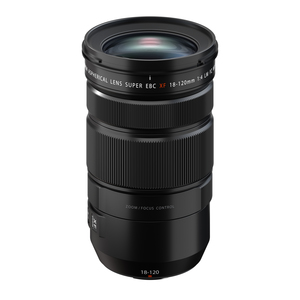 XF18-120mmF4 LM PZ WR Lens
$699.95
X-Series
Sale
XF18-120mmF4 LM PZ WR Lens
SKU: 0-74101-20598-5
UPC: 16780224
X-Series
Sale
XF18-120mmF4 LM PZ WR Lens
$699.95
$899.95
SAVE $200.00 ( 22.0% )
35mm Equivalent Focal Length: 27-183mm
Maximum Aperture: F4
15 elements in 12 groups with 3 aspherical and 3 ED lens elements
Weight: 470g (1.04lb)
Filter Size: 72mm
Order now for estimated delivery by
FedEx Ground
Est. Arrival by:
FedEx 2-Day
Est. Arrival by:
Full shipping details are available during checkout.
Please Note: Please allow 2-4 business days for order processing and shipment. Shipment times are calculated from the date of shipment.
Want to get it sooner? Look for it at one of our Authorized Dealers
---
Overview

Developed in collaboration with the engineers and experts responsible for the design of Fujifilms FUJINON Broadcast and Cinema Lenses, FUJINON XF18-120mmF4 LM PZ WR lens brings video-centric features to a compact, weather-resistant lens that is ideal for smaller, independent crews and moviemaking enthusiasts. Its versatile, 35mm equivalent focal range of 27-183mm and 60cm (23.6in) close focusing distance make it ideally suited to a wide range of applications from documentary to narrative projects. Its internal zooming mechanism also makes it the perfect choice for gimbal stabilization devices as the lens physical length and center of gravity does not shift when changing focal lengths. Automated controls provide precise control over zooming speed and stepless aperture adjustments, with seamless switching between continuous AF and manual focusing giving filmmakers complete creative control over where and when to draw a viewers attention*1. *1 Referenced focus functionality requires compatible camera firmware upgrade.
---
Highlights

XF18-120mmF4 LM PZ WR is the first X Series XF lens engineered in collaboration with the design team responsible for bringing FUJINON lenses to the high-end worlds of cinema and broadcast. Compact, lightweight, and versatile, this lens is tailor-made for motion production professionals and enthusiasts alike. Inspired by its motion production roots, XF18-120 features a variable power zoom, smooth manual focus, and stepless aperture adjustments to ensure a seamless recording experience. A conventional focus ring provides manual focus control, while a new innovative zoom lever offers variable zoom speed. Two custom function buttons, meanwhile, allow for the ability to preset a constant zoom speed, focal length, or focus point. Stepless aperture adjustments underscore the engineering subtleties of XF18-120mm that provide any storyteller with absolute control over every part of their image.
Serious moviemakers demand full control over the creative process. And with XF18-120mmF4 LM PZ WR, thats possible for zoom, aperture setting, and crucially focusing. The lens offers seamless switching between continuous autofocus and manual focus* during recording, so perfect results are always within reach. This advanced functionality maximizes versatility for focus transitions, allowing the user to step in and take control whenever required. *Focus functionality requires compatible camera firmware upgrade.
Zoom lenses are rarely used with gimbal stabilization devices because changing the lens focal length can affect its center of gravity. This, in turn, impacts how the lens is balanced on the stabilization device. However, thanks to its compact dimensions and internal zooming mechanism, XF18-120mmF4 LM PZ WR is an ideal solution for use with a gimbal because its physical length does not change when the zoom setting is changed. This results in a variety of creative options while having only one lens fixed to the camera.
With a 35mm zoom range equivalent to 27-183mm, a close focusing distance of 60cm (23.6in) throughout, and near-silent zoom and focusing controls, XF18-120mmF4 LM PZ WR is perfect for a broad range of motion production applications. These extend even further when considering the lens minimal focus breathing, stepless aperture control, and constant F4 aperture. Pull focus, make precise adjustments to iris, or change focal length without causing any noticeable distractions to the recorded footage.
XF18-120mmF4 LM PZ WR will always be ready for those unexpected creative moments, thanks to its weather-resistant design and fluorine-coated front and rear elements, which are designed to repel dust and moisture from the lens surfaces, making them easy to clean. Confidently film in wet or dusty conditions, in temperatures as low as -10C (14F) and focus on making a new masterpiece.
---
Specs

Lens Configuration

15 elements in 12 groups
(includes 3 aspherical and 3 ED elements)

---

Focal Length

18-120mm

---

35mm Equivalent Focal Length

27-183mm

---

Angle of View

76.5-13.5

---

Maximum Aperture

F4

---

Minimum Aperture

F22

---

Number of Aperture Blades

7 (rounded diaphragm opening)

---

Aperture Step Size

1/3EV (16 steps)

---

Minimum Focusing Distance (cm)

60

---

Minimum Focusing Distance (in)

23.62

---

Maximum Magnification

0.2x

---

Lens Diameter (mm)

77.3

---

Lens Length (mm)

123

---

Lens Length (in)

4.72

---

Lens Length - Extended (mm)

123.5

---

Lens Length - Extended (in)

4.86

---

Lens Weight (g)

460

---

Lens Weight (lb)

1.01

---

Filter Size

72mm

---

Lens Mount

FUJIFILM X mount

---

Approximate External Lens Dimensions

77.3mm123.5mm

---
---
What's Included

Front lens cap FLCP-72 II
Rear lens cap RLCP-001
Lens hood
Lens wrapping cloth
---
Shipping

During checkout, you will be able to select a preferred shipping option. An estimated delivery time for your order will be based upon your shipping selection, the delivery address, and our warehouse location. Shipment tracking is available after a purchase by referring to your order confirmation or by navigating to the My Orders & Returns section of your registered account on this website. Orders will usually ship within 2 business days of an order confirmation. Fujifilm will not be held responsible for any delays related to the processing, fulfillment, and shipment of any order that are placed on this website.
---
Cancellations & Returns

Orders can only be cancelled within 24 hours of the original confirmation.

Note that you have thirty (30) days from the date of your original purchase to return a purchased product. All sales are final after 30 days. If more than 30 days has passed since your purchase, Fujfilm will be unable to process your return, or otherwise offer you a refund or product exchange for any reason (subject to the applicable limited product warranty).

PURCHASES OF REFURBISHED PRODUCTS, C-STOCK PRODUCTS, AND PRODUCTS PURCHASED AT A DISCOUNTED OR PROMOTIONAL PRICE CANNOT BE RETURNED AND ARE NOT SUBJECT TO RETURN AT ANY TIME, FOR ANY REASON, SUBJECT TO THE APPLICABLE LIMITED PRODUCT WARRANTY.
---