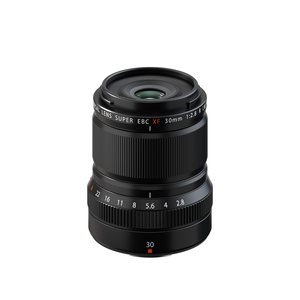 XF30mmF2.8 R LM WR Macro Lens
$599.95
X-Series
XF30mmF2.8 R LM WR Macro Lens
SKU: 0-74101-20682-1
UPC: 16792576
X-Series
XF30mmF2.8 R LM WR Macro Lens
35mm Equivalent Focal Length: 46mm
Maximum Aperture: f/2.8
11 elements in 9 groups, with 3 aspherical and 2 ED lens elements
Weight: 195g
Filter Size: 43mm
Diameter: 60mm
Order now for estimated delivery by
FedEx Ground
Est. Arrival by:
FedEx 2-Day
Est. Arrival by:
Full shipping details are available during checkout.
Please Note: Please allow 2-4 business days for order processing and shipment. Shipment times are calculated from the date of shipment.
Want to get it sooner? Look for it at one of our Authorized Dealers
---
Overview

In creative hands, this standard view prime lens knows no bounds. With XF30mmF2.8, it only gets better. Typical applications are met by expansive close-up potential, thanks to full 1:1 macro magnification. Near or far, superb high-resolution images are guaranteed thanks to construction of 11 elements in nine groups, including three aspherical and two ED elements. A circular, 9-bladed aperture also leaves defocused bokeh areas looking gorgeous. The optic is an ideal match for the latest X Series sensors. Considered design only maximizes this lenss appeal. It also features weather-resistance, a rapid linear motor Inner Focus system, lockable aperture ring, and more. Wrapped up in a compact 195g (0.43 lb), 69.5mm (2.736 in) package, XF30mmF2.8 is an incredible daily carry choice.
---
Highlights

With an equivalent 35mm focal length of 46mm, XF30mmF2.8 brings a new perspective to standard focal length lenses. Unlike most lenses of its class, the optics minimum focusing distance is just 10cm (3.94in) from the sensor, for a 1:1 macro magnification ratio. In addition to traditional uses, creatives can enjoy tabletop photography, close-up commercial detail, microscopic wildlife, and more. Get up and close and personal photographic experience with XF30mmF2.8.
Designed around decades of optical refinement, XF30mmF2.8 resolves pristine imagery, edge to edge, at any distance within its broad working range. Comprising 11 elements in nine groups, including three aspherical and two ED elements, its an ideal match for X Series latest high-resolution camera sensors. Spherical aberration and field curvature are effectively suppressed to deliver advanced image-resolving performance, maximizing image quality on every frame across portraiture, wedding photography, and other genres where image quality is paramount, this optic can be relied upon every day.
Compelling photographs arent just about whats held in perfect clarity, the way defocused areas complement the composition is equally as important when making images. With 9 rounded aperture blades, XF30mmF2.8 creates gorgeous bokeh. On top of a fast F2.8 aperture, an artful, shallow depth-of-field is easily achieved, thanks to the optics ability to maintain extremely close focus. Additionally, chromatic aberration is kept to a minimum within the brightest, most challenging areas of the frame, ensuring you never miss a moment.
Nothing should detract from the image makers creative process and certainly not the tools that make it all possible. Thats why XF30mmF2.8 is designed with seamless usability in mind. Aperture ring position can be locked, preventing accidental movement, while precise manual focusing optimizes results. Those who prefer autofocus will be pleased to learn that this optic houses a linear motor inner focus system. Pinpoint sharpness can be acquired in as little as 0.02 secs, time and time again.
Such a versatile lens will undoubtedly find itself in countless situations that includes unpredictable and inclement weather. The XF30mmF2.8s lens barrel is weather sealed in nine places, leaving it resistant to moisture, dust, and temperatures down to -10C. Mounted on a comparably weather resistant X Series body, the complete setup can go virtually anywhere you do. Minimize the necessary compromises and document more unmissable moments than ever.
---
Specs

Lens Configuration

11 elements in 9 groups
(includes 3 aspherical and 2 ED elements)

---

Focal Length

30mm

---

35mm Equivalent Focal Length

f=30mm,46mm

---

Angle of View

50.7

---

Maximum Aperture

F2.8

---

Minimum Aperture

F22

---

Number of Aperture Blades

9 (rounded diaphragm opening)

---

Aperture Step Size

1/3EV (19 steps)

---

Minimum Focusing Distance (cm)

10

---

Minimum Focusing Distance (in)

3.93

---

Maximum Magnification

1x

---

Lens Diameter (mm)

60

---

Lens Length (mm)

69.5

---

Lens Length (in)

2.73

---

Lens Weight (g)

195

---

Lens Weight (lb)

0.43

---

Filter Size

43mm

---

Lens Mount

FUJIFILM X mount

---

Approximate External Lens Dimensions

60mm 69.5mm

---
---
What's Included

FLCP-43 Lens cap
RLCP-001 Rear lens cap
Lens hood
Wrapping cloth
---
Shipping

During checkout, you will be able to select a preferred shipping option. An estimated delivery time for your order will be based upon your shipping selection, the delivery address, and our warehouse location. Shipment tracking is available after a purchase by referring to your order confirmation or by navigating to the My Orders & Returns section of your registered account on this website. Orders will usually ship within 2 business days of an order confirmation. Fujifilm will not be held responsible for any delays related to the processing, fulfillment, and shipment of any order that are placed on this website.
---
Cancellations & Returns

Orders can only be cancelled within 24 hours of the original confirmation.

Note that you have thirty (30) days from the date of your original purchase to return a purchased product. All sales are final after 30 days. If more than 30 days has passed since your purchase, Fujfilm will be unable to process your return, or otherwise offer you a refund or product exchange for any reason (subject to the applicable limited product warranty).

PURCHASES OF REFURBISHED PRODUCTS, C-STOCK PRODUCTS, AND PRODUCTS PURCHASED AT A DISCOUNTED OR PROMOTIONAL PRICE CANNOT BE RETURNED AND ARE NOT SUBJECT TO RETURN AT ANY TIME, FOR ANY REASON, SUBJECT TO THE APPLICABLE LIMITED PRODUCT WARRANTY.
---