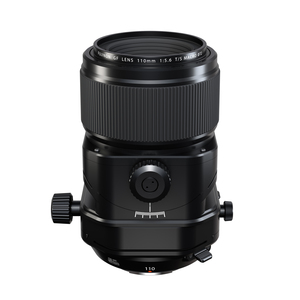 GF110mmF5.6 T/S MACRO Lens
$3,499.95
GFX SYSTEM
New
GF110mmF5.6 T/S MACRO Lens
SKU: 0-74101-20920-4
UPC: 600023620
GFX SYSTEM
New
GF110mmF5.6 T/S MACRO Lens
35mm Equivalent Focal Length: 87mm
Maximum Aperture: F5.6
11 elements in 9 groups with 2 ED and 1 aspherical elements
Weight: 2.77 lbs (1,255g)
Filter Size: 72mm
---
Overview

FUJINON GF110mmF5.6 TS Macro lens offers tilt-shift control, and thanks to its 0.43m minimum focusing distance and 0.5x maximum magnification factor, its perfect for close-up photography that demands total control to produce results with little-to-no distortion. Optically, the lens comprises ED and aspherical lens elements for aberration-free results, while an onboard sensor records the exact adjustments made to the lenss shift and rotation. This makes post-production involving multiple images simple and easy, especially when Lens Cast Calibration (LCC) tools are needed.
---
Highlights

Get perfect images, no matter how small, with FUJINON GF110mmF5.6 T/S Macro lens. The ultimate choice for product or detail-oriented photography, GF110mmF5.6 T/S Macro will help imaging professionals create stunningly sharp images with little to no distortion and let them place subjects in perfectly selected focal planes. Get up close, take full control over an images perspective, depth-of-field, and focus to ensure that lines remain parallel, and focus is placed exactly where it needs to be.
FUJINON GF110mmF5.6 T/S Macro lens digitally communicates with GFX System cameras to record adjustments made to lens shift and rotation, so that it can be conveniently used in post-production when precise data is needed for Lens Cast Calibration (LCC) tools. This ensures that final images stay true to their initial vision.
Creatives can get up close with FUJINON GF110mmF5.6 T/S Macro lens and document the subtlest attributes thanks to the lens's 16 in (0.43m) minimum focus distance and a maximum magnification factor of 0.5x. From a drop of condensation dripping down the side of a glass, to the printed text that forms the sentences of a book, the detail is in the imagery and the imagery is where stories are discovered.
---
Specs

Lens Configuration

11 elements in 9 groups
(includes 1 aspherical and 2 ED elements)

---

Focal Length

110mm

---

35mm Equivalent Focal Length

87mm

---

Angle of View

27.9

---

Maximum Aperture

F5.6

---

Minimum Aperture

F32

---

Number of Aperture Blades

9(rounded diaphragm opening)

---

Aperture Step Size

1/3EV (16steps)

---

Minimum Focusing Distance (cm)

43

---

Minimum Focusing Distance (in)

16.9

---

Maximum Magnification

0.5x

---

Lens Diameter (mm)

95

---

Lens Length (mm)

149

---

Lens Length (in)

5.86

---

Lens Weight (g)

1255

---

Lens Weight (lb)

2.76

---

Filter Size

72mm

---

Approximate External Lens Dimensions

Front lens cap FLCP-72 II, Rear lens cap RLCP-002, Lens pouch

---
---
What's Included

Front lens cap FLCP-72 II
Rear lens cap RLCP-002
Lens pouch
---
Shipping

During checkout, you will be able to select a preferred shipping option. An estimated delivery time for your order will be based upon your shipping selection, the delivery address, and our warehouse location. Shipment tracking is available after a purchase by referring to your order confirmation or by navigating to the My Orders & Returns section of your registered account on this website. Orders will usually ship within 2 business days of an order confirmation. Fujifilm will not be held responsible for any delays related to the processing, fulfillment, and shipment of any order that are placed on this website.
---
Cancellations & Returns

Orders can only be cancelled within 24 hours of the original confirmation.

Note that you have thirty (30) days from the date of your original purchase to return a purchased product. All sales are final after 30 days. If more than 30 days has passed since your purchase, Fujfilm will be unable to process your return, or otherwise offer you a refund or product exchange for any reason (subject to the applicable limited product warranty).

PURCHASES OF REFURBISHED PRODUCTS, C-STOCK PRODUCTS, AND PRODUCTS PURCHASED AT A DISCOUNTED OR PROMOTIONAL PRICE CANNOT BE RETURNED AND ARE NOT SUBJECT TO RETURN AT ANY TIME, FOR ANY REASON, SUBJECT TO THE APPLICABLE LIMITED PRODUCT WARRANTY.
---