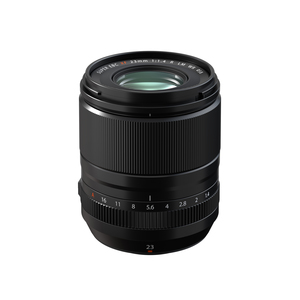 XF23mmF1.4 R LM WR
$899.95
X-Series
XF23mmF1.4 R LM WR
SKU: 0-74101-20528-2
UPC: 16746539
X-Series
XF23mmF1.4 R LM WR
35mm Equivalent Focal Length: 35mm
Maximum Aperture: F1.4
15 Elements in 10 Groups,with 2 aspherical and 3 ED elements
Weight: 380g (.84lb)
Filter Size: 58mm
Order now for estimated delivery by
FedEx Ground
Est. Arrival by:
FedEx 2-Day
Est. Arrival by:
Full shipping details are available during checkout.
Please Note: Please allow 2-4 business days for order processing and shipment. Shipment times are calculated from the date of shipment.
Want to get it sooner? Look for it at one of our Authorized Dealers
---
Overview

With XF23mmF1.4 R LM WR, Fujifilm has created an essential lens, ideally suited to discerning street, wedding, editorial, and documentary photographers. The updated construction can resolve sensors up to 40 megapixels, ensuring superb results both now and in the future plus the all-metal construction is primed for years of daily use, thanks to its robust, weather-resistant construction. Precise manual focusing and the F1.4 maximum aperture provide total control when needed, with razor-sharp autofocus, and an inner focusing mechanism driven by a powerful linear motor. Technology-laden, perhaps, but this essential wide angle lens still weighs a very portable 380g (0.84lb) and measures 77.8mm (3.06in). XF23mmF1.4 R LM WR is set to become your new daily companion.
---
Highlights

When making images is a passion, image quality can be all-consuming, especially as technology evolves and image resolutions increase. Capable of resolving up to 40 megapixels, XF23mmF1.4 R LM WR is an incredible combination of portability and performance that will continue to provide stunning detail and vibrant colors with minimal imperfections long into the future.
The best images happen when we least expect them to, which is why XF23mmF1.4 R LM WR features an redesigned internal focusing mechanism, driven by a fast, near-silent linear motor, for immediate response and precise results. With good timing, fast reflexes, and a little help from XF23mmF1.4 R LM WR, those unpredictable moments will turn into a lifetime of memories.
XF23mmF1.4 R LM WR provides incredible optical performance. This is thanks to two aspherical and three ED elements used in its construction, plus its F1.4 maximum aperture - created by nine rounded iris blades - that allow for pinpoint focus and smooth background bokeh. A large manual focusing ring provides further assurance that every element of the image-making process is under complete and total control.
At a weight of 380g (0.84lb) and length of 77.8mm (3.06in), XF23mmF1.4 R LM WR underscores Fujifilms continuing mission to create compact and lightweight X Series cameras and lenses. Beautifully engineered to withstand the demands of day-to-day use, XF23mmF1.4 R LM WR blends a durable, all-metal construction with practical touches, like a 58mm filter and a close focusing distance of 19cm (7.48in), to bring a versatile solution for street, documentary, and wedding photographers alike.
Making the most of moments is the hallmark of any great image maker. Regardless of whether the sun is shining, or whether the heavens are starting to open up, when used with our weather-resistant X Series cameras, XF23mmF1.4 R LM WR is ready to turn any inclement situation into a potential masterpiece. Weather-resistant seals throughout the lens construction repel dust and moisture, allowing it to perform effortlessly down to -10C (14F). Simply put, the elements should not get in the way of your next great image.
---
Specs

Lens Configuration

15 Elements in 10 Groups with 2 aspherical and 3 ED elements

---

Focal Length

23mm

---

35mm Equivalent Focal Length

35mm

---

Angle of View

63.4

---

Maximum Aperture

F1.4

---

Minimum Aperture

F16

---

Number of Aperture Blades

9 (rounded diaphragm opening)

---

Aperture Step Size

1/3EV (22 steps)

---

Minimum Focusing Distance (cm)

19

---

Minimum Focusing Distance (in)

7.48

---

Maximum Magnification

0.2x

---

Lens Diameter (mm)

67

---

Lens Length (mm)

77.8

---

Lens Length (in)

3.06

---

Lens Weight (g)

375

---

Lens Weight (lb)

0.82

---

Filter Size

58mm

---

Lens Mount

FUJIFILM X mount

---

Approximate External Lens Dimensions

67mm x 77.8mm

---
---
What's Included

FLCP-58 II Lens cap
RLCP-001 Rear lens cap
Lens hood
Wrapping cloth
---
Product Resources
---
Shipping

During checkout, you will be able to select a preferred shipping option. An estimated delivery time for your order will be based upon your shipping selection, the delivery address, and our warehouse location. Shipment tracking is available after a purchase by referring to your order confirmation or by navigating to the My Orders & Returns section of your registered account on this website. Orders will usually ship within 2 business days of an order confirmation. Fujifilm will not be held responsible for any delays related to the processing, fulfillment, and shipment of any order that are placed on this website.
---
Cancellations & Returns

Orders can only be cancelled within 24 hours of the original confirmation.

Note that you have thirty (30) days from the date of your original purchase to return a purchased product. All sales are final after 30 days. If more than 30 days has passed since your purchase, Fujfilm will be unable to process your return, or otherwise offer you a refund or product exchange for any reason (subject to the applicable limited product warranty).

PURCHASES OF REFURBISHED PRODUCTS, C-STOCK PRODUCTS, AND PRODUCTS PURCHASED AT A DISCOUNTED OR PROMOTIONAL PRICE CANNOT BE RETURNED AND ARE NOT SUBJECT TO RETURN AT ANY TIME, FOR ANY REASON, SUBJECT TO THE APPLICABLE LIMITED PRODUCT WARRANTY.
---